Updated February 2013 with a review of The General Muir. (Originally published March 2007; updated June 2010; May 2011; October 2011; April 2012; July 2012 and January 2013.)
I get so much inbound traffic to my blog to this article about the "Best Burgers… in Atlanta", I decided to write an update that includes my reviews of burgers in Atlanta – and my pick for for very best burger in Atlanta.
Who am I? And why should you care about my reviews? My friends would describe me as a burger aficionado. I've checked out quite a few restaurants in my search for burger deliciousness. And last year, I was honored to be a judge at the inaugural "Battle of the Burgers", where I judged burgers from 17 Atlanta restaurants. Bottom line (no pun intended) I've eaten a lot of burgers in Atlanta. I also have a passion for customer experience. I call it like I see it.
But you didn't come here to read about me. You came here to read about burgers. Let's get to it. NEW! And be sure to post your pick for best burger in Atlanta, in the comments section below. (Story continued, after the jump…)
My Favorites. Best Burgers in Atlanta.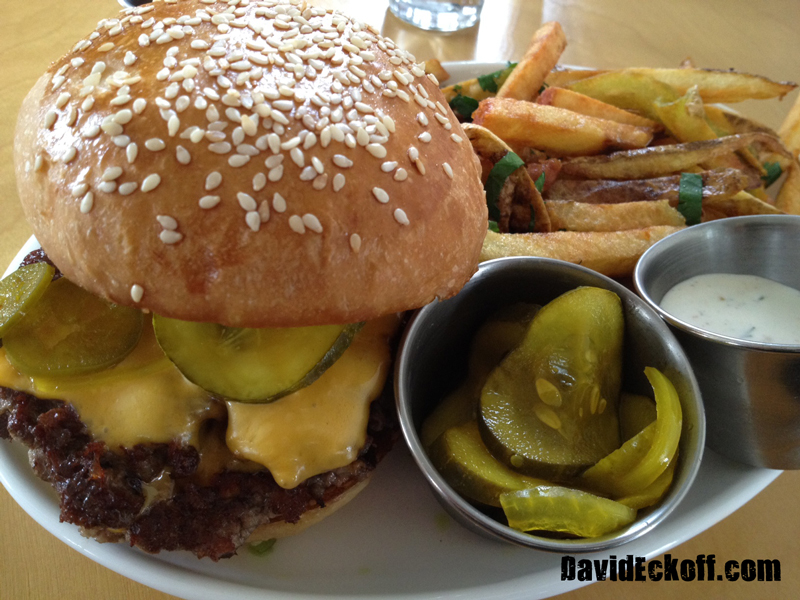 1. Bocado: My favorite for burger taste. Flavorful, delicious and juicy. Winner of Creative Loafing "Best Burger" 2010.
Good: The Bocado Burger Stack is easily the most delicious burger that I've tried in Atlanta. Perhaps anywhere. Manager Sean Brosnan tells me that the secret to the taste is the mix of house-ground short rib, beef brisket and organic grass-fed beef. Two patties, with melted American cheese. Perfect buns from Holeman & Finch. Herb fries are fantastic. Likable atmosphere, open, brick walls. Spring 2012: Tuesday evenings after 5PM, Bocado Burger Stack and draft beer for $12. Bonus: tomato bisque soup is outrageously good.
UPDATE: July 2012: I've returned to Bocado several times in recent months, and each time the burger stack is perfect.
Bad: Service uninspired and inattentive (on multiple visits). Not much parking. Room acoustics can be loud. Reservations not available for lunch.
Ugly: What, no ketchup? After our orders were brought to our table, we noticed there was no ketchup for the burgers. Nothing is more frustrating than having to flag down a server after they've left your table, while you're hungry and want to eat. Sadly, we were stuck waiting 10 minutes while our burgers got cold. Here's the deal: Bocado doesn't have ketchup on the tables; and the restaurant doesn't bring it on the side with their burgers. Suggestion to Bocado: bring ketchup on the side with every burger. Or at least have wait staff ask if guest wants ketchup on the side when guest orders a burger. Tip for guests: when you order your burger, ask for ketchup on the side.
Wish: A rooftop deck. A Virginia-Highland location serving up Bocado Burger Stacks. And world peace. In that order.
Location: 887 Howell Mill Rd, Atlanta, GA 30318
Menu: Bocado menu
=================================================================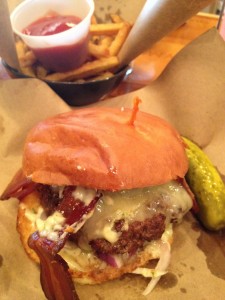 2. Muss and Turners: Delicious charcoal flavor burger, cooked on a Big Green Egg. Best fries ever. Pickles are outstanding. Friendly staff that cares about their customers.
My more detailed review, coming soon.
Location: 1675 Cumberland Parkway, Suite 309, Smyrna, GA 30080
Menu: Muss and Turner's menu
=================================================================
3. Yeah Burger: My neighborhood favorite. Named by Bon Appétit as one of their 10 favorite burger spots in America.
Good: Grass-fed beef burgers are wonderful. Buns are tasty. "Bacon jam" topping is awesome. Option for gluten free buns (this is popular with many of my friends). Super friendly staff. Co-owners are personable and actually care about their customers. Covered outdoor patio.
Bad: Can be a long line at the cashier. Although it moves relatively quickly.
Ugly: n/a
Wish: Larger milkshakes.
Locations: original Westside location 1168 Howell Mill Rd Ste E Atlanta, GA 30318. New second location in Virginia-Highland at 1017 N Highland Ave NE, Atlanta, GA 30306
Menu: Yeah Burger menu
=================================================================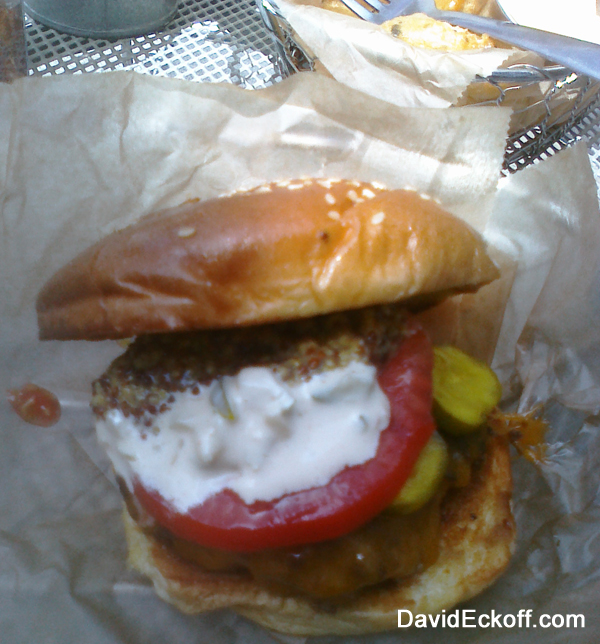 4. Farm Burger:Grass-fed burger bliss.
Good: 100% grassfed beef that is dry-aged for two weeks and ground daily. Menu is seasonal and sourced from local farms. I like that Farm Burger has a close watch on its supply chain for the meat it sources. Grassfed beef is sourced primarily from Moonshine Meats of Athens, Georgia (a cooperative committed to ethically raised cows, started by Farm Burger partner Jason Mann and supplemented by other local ranchers). Brisket chili is really, really good, don't miss it.
Bad: Possibly a long line to place your order.
Ugly: n/a
Wish: Milkshakes added to the menu. Abita root beer is okay, but not great – would like to see a better root beer on the menu. A Virginia Highland location.
Locations: Original location: 410b W. Ponce de Leon, Decatur, Georgia 30030. New second location in Buckhead: 3365 Piedmont Road, Atlanta, Georgia 30305.
Menu: Farm Burger menu
=================================================================
5. The General Muir: "A loving tribute to the New York Jewish deli, returning it to its hand-crafted roots."
Executive Chef Todd Ginsberg, who made Bocado's double-stack (my #1 rated burger in Atlanta) burger famous, is now at the helm at The General Muir, which opened January 2013. There is a double burger stack on the menu.
I asked in advance of my February 2013 visit:
"Is the double burger stack recipe similar to Bocado?"
The reply from The General Muir:
"It is not identical, but you will not be disappointed."
So, what did I think of The General Muir burger stack compared with the Bocado burger stack? Read on…
Good: In itself, the burger stack at The General Muir is a very good burger. And the fries are fantastic.
But The General Muir burger stack lacked the incredible flavor of the Bocado burger stack. Also, I didn't like the H&F onion roll quite as much as I like the H&F sesame roll at Bocado.
Having said that, the rueben sandwich and matzoh ball soup were perfect (really damn good!); the service at The General Muir was beyond wonderful; and I loved the decor and atmosphere at The General Muir. This place is awesome.
I'll most definitely return to The General Muir for everything else. But for my favorite burger stack, Bocado is still my destination.
Bonus: free 2-hour parking (3-hour parking in the evening) in central parking garage. (Do not bother trying to park at the parking meters in front of the restaurant, they are for short term parking and don't allow enough time for a meal.)
Bad: The General Muir is so new, that it is not yet well marked, making it hard to find. I'm sure they will get a prominent sign on the front of the restaurant soon enough, to make it easier to find. (Tip: The General Muir is located in the building that has a CVS on one end of the building and The General Muir is on the other far end of that building, next to Bonefish Grill.)
I didn't like the pickle. It was "full sour" and so salty I could barely eat it. I asked our server after our meal, and she suggests if you'd like a less salty pickle, ask for the "half sour" (which I will do next visit).
No ketchup brought with the meal until I requested it. As I see it, if you're serving burgers with fries and don't already have a bottle of ketchup on the table, there should be ketchup offered when your order is taken (or automatically brought out with the meal).
Ugly: n/a
Wish: a burger stack with the flavor of the Bocado burger stack. I'd visit The General Muir weekly for that!
Location: 1540 Avenue Place, Suite B-230, Avenue Pl, Atlanta, GA 30329
Menu: The General Muir menu
=================================================================
6. George's: A neighborhood favorite, since 1961.Good: Delicious burgers with a bun that is just-right. Un-freakin-believable onion rings (my favorite onion rings anywhere). Expanded outdoor patio seating with overhead ceiling fans. Long-time wait staff is friendly and gets the job done. Choice of 8 oz or 5 oz burger. Authentic:  hole-in-the-wall restaurant/bar not trying to be anything that it isn't.
Bad: n/a
Ugly: n/a
Wish: More seating outside (your wish is granted!)
Location: 1041 N Highland Ave NE, Atlanta, GA 30306
Menu: George's menu
=================================================================
7. Murphy's
Good: The Murphy's Burger (avocado mayonnaise, swiss, smoked bacon, choice of french fries or green salad; $12 dinner / $10 lunch). This is a delicious burger. Covered outdoor patio. Friendly staff. A Virginia-Highland institution.
Bad: (1/11/2013 update): On two consecutive recent visits to Murphy's, I ordered my burger cooked "Medium" (my expectation: warm pink center). Both times, it was presented at the table with what I would describe as "Medium Rare" (warm and very red center). I felt like I was eating raw burger meat (not my preference) and had to send it back. On my most recent visit, I proactively asked the server to ensure that didn't happen again. Yet it did. Tip: if you're at Murphy's take into account how the chef cooks the burgers, and adjust your order accordingly.
Ugly: n/a
Wish: n/a
Location: 997 Virginia Ave NE, Atlanta, GA 30306
Menu: Murphy's menu
=================================================================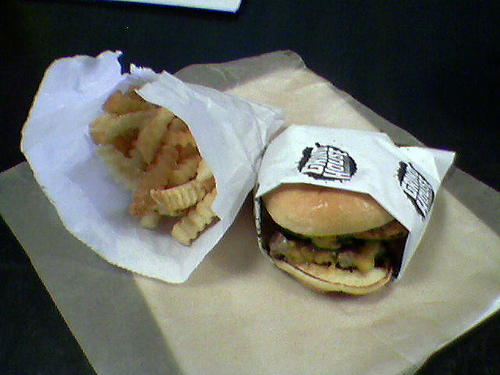 8. Grindhouse Killer Burgers: A great choice for lunch in the Sweet Auburn Curb Market. And a new second location at 1842 Piedmont Ave NE.
Good: freshly ground certified Angus chuck and brisket for these 1/4 lb burger patties (that are thinner than Flip and Farm Burger) were classic. I liked the potato bun – sourced from Martin's in Pennsylvania, owner Alex Brounstein describes it as "the best hamburger bun in America". Casual sit-at-the-lunch-counter atmosphere. Crinkle-cut fries just like I remember from Friendly's in New England in the 80's. Laid back and friendly staff. Free parking in lot with ticket validation. The price is right.
Bad: n/a
Ugly: n/a
Wish: n/a
Locations: 209 Edgewood Avenue Southeast, Atlanta, GA 30303. And a new second location at 1842 Piedmont Ave NE Atlanta, GA 30324.
Menu: Grindhouse Killer Burgers menu
(Photo credit: Grindhouse burger by marklarson)
=================================================================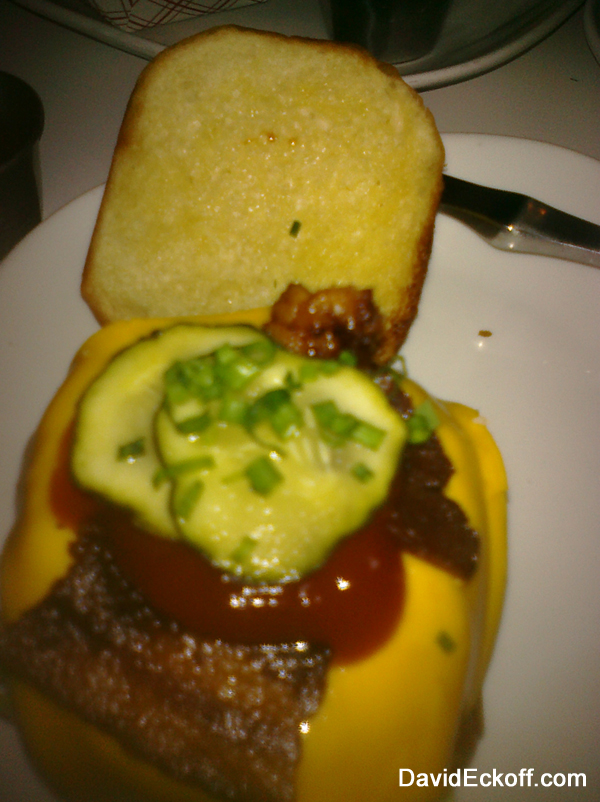 9. Flip Burger Boutique: I have a love/hate relationship with Flip. In my 2010 ratings, I said about Flip: "By far, the best-tasting burger in Atlanta" and had them ranked # 1. At times, this can be one of the best-tasting burgers in Atlanta but they've fallen in my ratings due to inconsistent product quality, customer service issues, and menu changes that turn me off to Flip.
Good: Unbelievably juicy and flavorful burgers with wide variety of unique burger choices (see menu). 100% grass-fed beef (according to menu). One size: 5.5 oz (not huge, but 5.5 oz of awesomeness). Some people complain that the burgers are expensive, but I disagree ($7.50 for an amazing bacon cheeseburger isn't unreasonable). Milkshakes are quite awesome and unique – my favorite is nutella + burnt marshmallow; (other milkshakes: krispy krème, coffee + doughnut, spicy chocolate mole, pistachio + white truffle, foie gras, captain crunch, apple pie, nut n' honey, mango & ginger. Update: shakes available may vary depending on the menu at the time.) Really liked the panko & parmesan zucchini fries with gremolata mayo (update: see below about the zucchini fries). Small jar of house-made b&b pickles are an extra $2 and were really good (update: see below about the house-made b&b pickles).
Bad: Crowded, expect to wait for a table. Menu changes as of May 2011 are bad:
– Flip doesn't currently have a bacon cheeseburger on the menu. WTF? (Update August 2011: bacon cheeseburger back on the menu).
– The milkshakes reduced in size from 16 oz to 12 oz. The milkshakes are too small now. And the 25% reduction in size with only a 17% reduction in price is a voodoo price increase. (Flip wrote to me: "We were throwing away so many half drunk milk shakes that we decided to reduce the size; we felt the price was fair." I'm calling bullshit on that reply. Everyone I've brought to Flip loved the shakes and polished them off. It wouldn't surprise me if this has more to do with improving margins by decreasing portion size. I hate that.) Net: Milkshakes are relatively expensive. Worth it when they were 16 oz, not as good a value now that they are only 12 oz. DISLIKE!
– There previously was a $12 lunch special on the menu (basic burger, fries and shake). That is no longer listed on the menu. I asked for it the other day and the restaurant did provide it. But if you aren't familiar with it, you'd never know it exists if it isn't on the menu. This is customer unfriendly. Flip wrote to me: "The lunch special is still $12 during the week. We went to a different menu format so it has become a verbal special." I don't believe that response. My server yesterday did not mention the $12 lunch special until I asked about it. And it wouldn't surprise me if Flip is trying to phase out the $12 lunch special to improve margins. Even if the $12 lunch special is still available (if you know to ask for it), it now includes a milkshake that's 25% smaller – but the price is the same as it was before. This isn't as good a value.
UPDATE August 2011: Wait staff tells me that the $12 lunch special is no longer available. As I suspected a few months ago, the restaurant has phased this out completely. DISLIKE!
– Parmesan zucchini fries not currently on the menu. Flip wrote to me: "The Zucchini fries are a seasonal item. We constantly rotate sevreral [sic] of our salads and sides. You'll see them again."
– House made b&b pickles not currently on the menu. Booo!
Ugly: Atmosphere (decor and music) is like a NYC or Miami club – and comes across as try-hard. Bad techno-pop is too loud.You can eat at the bar, but I've found the bartenders to be pretentious – they avoid eye contact with customers and seem to try to avoid being helpful. Review your check at the bar: bartender ran my card on someone else's (much more expensive) tab, and he then had a "whatever" attitude about it. During the past year, I've seen inconsistent product quality over multiple visits. One visit in particular, the burger fell so far short of what I had been accustomed to at Flip, I had to wonder what changed. To say I was unhappy with it would be an understatement. I discussed the issue with the manager, and he not only comped the burger, he seemed to genuinely care (to his credit). But warning: your mileage may vary with product quality.
UPDATE July 2012: I recently had a lunch meeting at Flip's Howell Mill location, and the quality of the burger fell far short of what it used to be. I can't at this time recommend Flip, due to inconsistent product quality.
Wish: A burger as good as Flip (when they are good), without the techno-pop club atmosphere and too-cool-to-provide-service bartenders.
Location: original Westside location 1587 Howell Mill Rd NW, Atlanta, GA 30318. New second location in Buckhead: 3655 Roswell Road, NE Atlanta, GA 30342.
Menu: Flip Burger Boutique menu
=================================================================
More from around the web:
Atlanta: Top 10 Burgers (BlackBook)
Best Atlanta Hamburger (CitySearch)
Looking for the Best Burger in Atlanta (Sneaky Sunday)
Flip Burger Boutique review (Creative Loafing)
Farm Burger review (Creative Loafing)
Grindhouse Killer Burgers review (Atlanta magazine)
##
Original article, March 30, 2007:
As we head into the weekend…. If you're in town for the Final Four, and looking for a great burger, the Wall Street Journal recently ran an article profiling the best burgers in the country. Not only were three Atlanta restaurants featured, one of them was selected as having the best burger in America.
In addition to WSJ's picks below, I can suggest George's in the Virginia Highland neighborhood (my pick for best burger in Atlanta) and Vickery's in Midtown (update 12/4/2010: Vickery's restaurant in Midtown is scheduled to close on Jan 1, 2011).
More: AOL City Guide "Atlanta Best Burgers"
From the Wall Street Journal article:
I think the best burgers in America are…in Atlanta.

The Vortex, a pseudo-biker joint that you enter through a human mouth, serves an estimable burger, as good as any in Tinseltown. Even better is the well-charred number with beautifully crisped thick-cut bacon at the Earl, in East Atlanta.

But the outstanding hamburger experience I found in an odyssey of several months and thousands of miles was at Ann's Snack Bar, a justifiably renowned little diner on a broken-down industrial stretch of highway.

Miss Ann, as habitues call her, is a woman of commanding style and ready banter. She works alone at her grill, patting each ample patty lightly as she sets it down. Her masterpiece, the "ghetto burger," is a two-patty cheeseburger tricked out with bacon that she tends closely in a fryolator.

Observing Miss Ann in action would be enough of a show, one perfected over many decades. But while she demonstrates the extreme economy of motion of a superb short-order cook, she simultaneously carries on a running dialogue of lightly sassy repartee with customers she knows.

Then Miss Ann dusts your almost-ready patties with "seasoned salt" tinged red from cayenne pepper. It looks like a mistake, too much, over the top. But when you get your ghetto burger in its handsomely toasted bun envelope, you regret doubting the lady for one second. The big burgers stand up fine to the spice. This is the next level in burgerhood. And it just barely fits in your mouth.