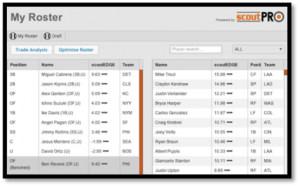 Congrats to Competitive Sports Analysis, a startup I advise, for their new fantasy baseball app on CBS Sports!
scoutPro Fantasy Baseball uses highly accurate calculations based on key baseball statistics and expert subject matter analysis. The result is "scoutEDGE" scores, which are single numbers used to compare players' fantasy value. scoutPRO optimizes user rosters based on its scoutEDGE scoring system and individual league rules – helping general managers gain a competitive advantage.
The app's player comparison tool updates scoutEDGE scores throughout the 162-game season based on trends in performance and injury developments, as well as venue and opponent factors. It even provides ongoing free agent and trade recommendations based on scoutEDGE scores, recent player performance and custom analysis of the user's roster.
Here's the app on the CBS Sports App Store: scoutPro Fantasy Baseball