UPDATE: the original article below describes my first four months training with SCT. Here are additional links to updated results:
I joined Turner Athletic Club earlier this year. After building a base of cardiovascular fitness, I've added a type of strength training to my workout routine called "Static Contraction Training" (SCT) that has yielded outstanding results.
I started the program about four months ago and I'm amazed at the increase in strength I've achieved. My SCT benchpress has increased from 380 lbs to 470 lbs (24% gain); and my SCT single leg press has increased from 790 lbs to 1020 lbs (29% gain). I've had to switch from dual leg press to single leg press, because there are not enough weight plates in the gym to get to 2,000+ lbs I would need for a dual leg press – no kidding!
Two charts that show my progress: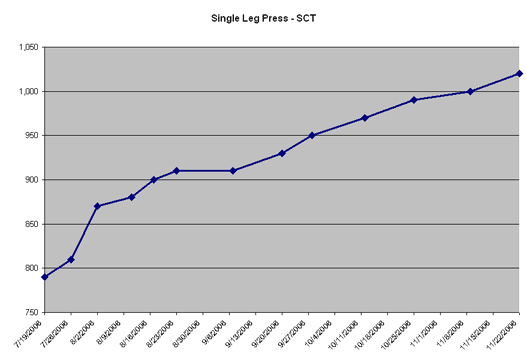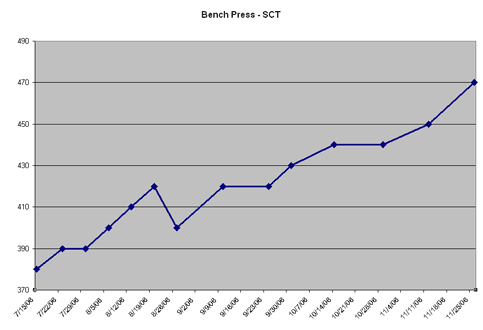 I first heard about SCT from peak performance coach Tony Robbins. Developed by Pete Sisco and John Little, SCT generates ultra high intensity in each relatively short duration workout.
If you're looking to to learn more about how to get started with Static Contraction Training, I recommend Pete Sisco's excellent resource of training information on Static Contraction Training. Pete is the best!
What is SCT? In summary: starting from your strongest range of motion, lift the maximum (very heavy) weight possible and hold in a stationary (but not "locked out") position for 5-10 seconds. If you can hold the weight for more than 10 seconds, it is too light.
Unlike traditional strength training, perform a single maximum intensity "rep" within only your strongest range of motion – and do not perform multiple sets. Instead of a 3x per week routine, each session is so intense that it is necessary to get 1 to 2 weeks of rest before your next workout.
Critically important: write down the amount of weight lifted, and the next week lift an even heavier weight.
There are three underlying principles:
Muscles grow in response to high intensity overload.
The higher the intensity of muscular output, the shorter the duration must be. (For example, you can run very fast but only for about 100 yards. Or, you can run for 26+ miles, but only at a slower speed.) If you want a very high intensity workout, it must be very short.
To progress toward your physical goal, you need to increase the intensity of each workout. And the more intense your workouts, the more rest time you need between workouts.
Even though this workout is short in duration and only once a week, it is extremely physically and mentally demanding.
What I like about SCT:
I achieve maximum results in minimal duration workouts – a good use of time vs. results
I know I can always find a way to get to the gym once every two weeks
I am incredibly motivated by the results I see week by week
Important: before attempting this yourself, read instructions from the experts, so you understand the safety equipment required. Stating the obvious: if you don't use the required safety equipment, and you drop a 450 lb barbell on your chest, you could be seriously injured or worse.

Related strength training tip: I have been using NewGrips to cushion my palms and fingers and add strength to my grip so I can lift even heavier weights. NewGrips are made of neoprene and I'm finding are much better than traditional weight lifting gloves. I bought these, use them every workout and think these are the best weight lifting grips around. If you decide to get a pair, I'm linking to NewGrips with an affiliate link, meaning I get a token commission if you click from my link and purchase a pair of NewGrips from the manufacturer. – David Eckoff
---
UPDATE: the original article above describes my first four months training with SCT. Here are links to updated results: