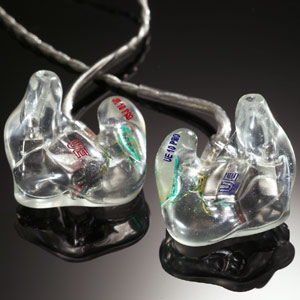 One of the best things I've done: I ditched the earbuds that came standard with my iPod, and upgraded to UE-10 (UE10) custom in-ear monitors from Ultimate Ears.
We're talking studio reference with a true 20Hz to 16k frequency range – you hear precisely what the artist intended.
I have "wow" moments every day with my UE's, hearing layers of music and instruments in my favorite music that I never even knew were there.
The triple driver configuration delivers what I like to call "high definition" for your ears. I'm blown away by how music sounds.
The UE-10's also provide 26db of isolation passive noise-cancellation – these are terrific for flying. Several people have asked me how the UE-10's perform vs. the very popular Bose Quiet Comfort 2 noise canceling headphones. In my head-to-head tests on multiple flights, I strongly preferred the UE-10's for noise reduction – and music was no contest, with the UE-10's far superior to the Bose Quiet Comfort 2.
The only thing more impressive than the technology: the people behind the product. While on a tour of UE's laboratory in southern California, I had the chance to meet Jerry Harvey, co-founder and inventor. Jerry struck me as being the consummate inventor, with great passion for the product. I've also had the privilege of getting to know Mike Dias, who handles artist relations and VIP customers. Mike is professional in every regard. In a world in which I rarely feel connected to the people who create the technology I use, my experience with Ultimate Ears has been exceptional.
This is one of the few products I've used where I can find no negatives about the product. The UE-10's deliver as promised. Perhaps the only negative I see is price – but if you can afford them, these are well worth the price.
##
[Update 1: Logitech acquired privately held Ultimate Ears in August 2008 for $34 million in cash. I've continued to experience exceptional customer service from the company. And UE continues to innovate, releasing the new top of the line UE-18 in January 2010.]
[Update 2: Ultimate Ears founder Jerry Harvey has started a new company: JH Audio. Their Pro Music line of custom in-ear monitors looks very impressive. I hear good things about them!]
##
What Others Are Saying:
Ken Levy's Blog:
Ultimate Ears deliver on how music is meant to be heard
iPodlounge:
Review of Ultimate Ears UE-10 Pro Earphones
HeadRoom:
Review of Ultimate Ears UE-10 Pro